Screen Pipe
Screen Pipe



The detailed Screen Pipes that we can offer are as below:

1.Key Features Include:
Slots are made on base pipes with large ID/OD ratio.
Open hole area: 2%-6%.
Base pipe: J55, N80, P110, etc.

2.Applications: Wells with medium or coarse sands

3.Specifications: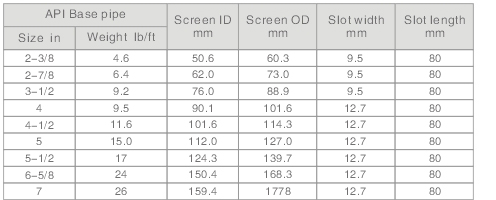 Note: The slot length and slot pattern can be adjusted according to the special requirements of the user.

4.Slot type:





Parallel slot And Staggered slot
Wire-wrapped Screen
1.Key Features Include:

All data come from PW90×PW90 design;
Wire and rod material: AISI304, AISI 304L,AISI 316, AISL316L;
Base-pipe: API J55, N80, P110, C90, 13Cr, or more;
Slot width: 0.1-2.0mm;
Wire Wrapped Screens length (m): 1.8, 3.0, 6.0, 9.0, 12.0, or more.
2.Applications:

Gravel-packing in cased-hole completions of vertical wells, directional wells, horizontal wells, multi-lateral wells and open-hole completions.
3.Specifications: